my mom holds her accent like a shotgun,
with two good hands.
her tongue, all brass knuckle
slipping in between her lips
her hips, all laughter and wind clap.
she speaks a sanchocho of spanish and english,
pushing up and against one another,
in rapid fire
there is no telling my mama to be "quiet,"
she don't know "quiet."
her voice is one size better fit all
and you best not tell her to hush,
she waited too many years for her voice to arrive
to be told it needed house keeping.
English sits in her mouth remixed
so "strawberry" becomes "eh-strawbeddy"
and "cookie" becomes "eh-cookie"
and kitchen, key chain, and chicken all sound the same.
my mama doesn't say "yes"
she says, "ah ha"
and suddenly the sky in her mouth becomes Hector Lavoe song.
her tongue can't lay itself down flat enough
for the English language,
it got too much hip
too much bone
too much conga
too much cuatro
to two step
got too many piano keys
in between her teeth,
it got too much clave
too much hand clap
got too much salsa to sit still
it be an anxious child wanting to
make Play-Doh out of concrete
English be too neat for
her kind of wonderful.
her words spill in conversation
between women whose hands are all they got
sometimes our hands are all we got
and accents remind us that we are still
bomba, still plena
say  "wepa"
and a stranger becomes your hermano,
say "dale"
and a crowd becomes a family reunion.
my mama's tongue is a telegram from her mother
decorated with the coqui's of el campo
so even though her lips can barely
stretch themselves around english,
her accent is a stubborn compass
always pointing her
towards home.


WEAPONS
At entrance of a West Philadelphia high school,
an officer with a gun perched on each waist,
asks me if I have any weapons.
I hold up my book.
He doesn't find that funny.
Tells me to empty pockets,
walk through metal detector.
8:03am.
I wait for 2 students to pass through first.
Already I wonder what they have learned.
I am escorted to an auditorium,
where there are 130 Black and Latino students.
We talk about hip-hop,
they think poetry is what old white people do.
I tell them my favorite poem is "Ms. Fat Booty"
because I like the storytelling.
They giggle as if they are still kids.
One girl shouts, "Rack City, bitch!"
And the whole room explodes in unison,
their bodies bouncing
as if they were sitting on trampolines.
I ask them if they have dreams.
11 students raise their hands,
barely above their shoulders
as if they were sitting in History class
unsure of the right answer.
A student named, Luciano, in the first row
is waiting for me to tell him what page to turn to.
Another student, in the 8th row
studies my face, trying to decide if this is a trick question.
There is no right answer, I say
but they are too comfortable
with the right to remain silent.
I ask them do you have a family member in prison,
122 students mechanically raise both of their hands,
as if a string, tied around their wrists,
was yanked for them.
Their hands remain up this time.
And I can see all of them, perfectly.
I heard the newly built prison a few miles away
bought their test scores as wallpaper.
The principal is staring at me.
in anticipation of what I have to say next.
He is afraid they will leave with weapons.
I am afraid
they will not know the ones
that already exist.

All rights reserved to Denice Frohman, may not be transcribed, performed, copied without written consent from author. Copyright © 2012 Denice Frohman.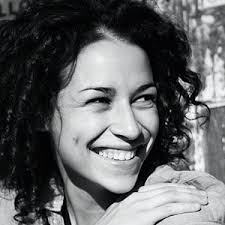 DENICE FROHMAN is an award-winning poet, lyricist, and educator, whose work explores the intersections of race gender, sexuality, and the "in-betweeness" that exists in us all. She is the 2013 Women of the World Poetry Slam Champion, 2013 Hispanic Choice Award and 2012 Leeway Transformation Award recipient. Her work has been fatured in the Huffington Post, Upworthy, Buzzfeed, The Apiary and more. Her poem "Dear Straight People" went viral and has over 700,000 views on Youtube. She has performed and taught poetry across the country and internationally, and is the Program Director at The Philly Youth Poetry Movement. She is currently touring as one half of the spoken word duo, Sister Outsider. Her debut CD, Feels Like Home, is available now. www.denicefrohman.com
Related Posts