LISTEN

First he'll gift me nights tied
with cheap Merlot ribbons
frayed beneath crescent moons
then introduce me to the art
of whistling, instruct me
to pucker less before blowing,
my lips dry bolti unable
to remember water, the song
that erupts a lost cantata
only he can access.

When he plucks the sun
into bloom between latescent
fingers, my mouth remains
unable to match the euphoria
dancing on each temple.

So when he stayed outside
my front door for five hours
after the first time his fist
twirled against the backdrop
of my brown flesh, whistling
like a jagged chime scraping
vinyl hall, I was not surprised,
prayed in a locked bathroom
for silence, clasped hands so hard
the blood should've burst.

---

TWENTY SOMETHING

Rolling down Fry St. on your mountain bike
like a Prime Minister abandoning Parliament,
hands loose on the handlebars and a customary
cigarette lopped between a grin, you reigned.
All the girls saw; all the middle-aged professors
and store owners reminisced. Here you killed
time till your band played their gig at Gillian's,
never mind it's Wednesday and an Intro to World Lit
paper calls, never mind the text messages
Misty sends like hot potatoes missed: on this street,
your long hair blows, your absence breezy blasphemy.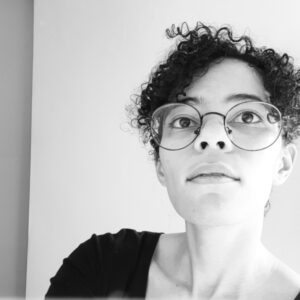 Schyler Butler received her BA in English from the University of North Texas. A recipient of an Ohio Arts Council Individual Excellence Award for FY 2020 and a lead poetry editor for Human/Kind Journal, her work appears in and is forthcoming from African American Review, Writers Resist, Duende, Superstition Review, Obsidian, Heavy Feather Review's #NoMorePresidents, Kissing Dynamite, and elsewhere, sometimes under the pseudonym "Iyana Sky." Currently, she lives in Columbus, OH.
Related Posts
« 2 POEMS – Janiru Liyanage AT RISK OF RAIN – Vivian Montgomery »