In the equation.
Forever the seeker,
I hid from
fate
for once, whispering
"please don't find me."
Forearm-over-eyes
count
to twenty-two.
"Ready or not-"
Behind tree,
the split branch,
I tread in
father's garden
"Here I come!"
Aggressive,
as boys tend to be.
Wheelbarrow &
scapegoat.
Likewise, they speak
of growing
in brutal tones,
a moral sin to know such
things.
"Whose fault is it,
then?
I didn't act on it."
To collect the
shards
of Robin's nest,
runny
through slit
fingers.
Saltiness.
A potential
family,
scrambled.
My limb extends,
like his
reflex, a boat
in storm,
smacking moor
of forehead.
She swore,
"Never again."
And even through
all the years
I spoke atrocities
upon him.
A vociferous
pitchfork tongue
chainsaw,
bitter as scorched.
Teething his
bark,
overheard
while in the garden,
that nest,
already shattered.
I was only finding then
pieces
of what's been
broken,
a jigsaw of
flash
which made the
sun.
We won't know
our star
has burnt out
until countless years
after,
& much like that
child
in garden.
By then, it will be
far too gone
for any
number of appendages
to resurrect
a
yolk
which has
bled
from its shell.

Haiku on Haiku
A Haiku is hard
to write, because you often
run out of syllab–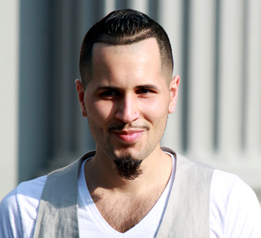 Paul LaTorre is a 25-year old poet/teacher from Newark, NJ.  He currently resides in Montclair, with his wife, Melissa and their 2 cats, striped turtle and leopard gecko. A graduate of Bloomfield College, with a BA in Creative Writing, he is working on attaining his MFA in Creative/Professional Writing, starting this fall. Paul's aim is to one day soon be a professor of Creative Writing and Poetry. His two crowning achievements as an undergrad were receiving the Joyce Carol Oates Award for Creative Writing, as well as founding 'the Live Poets Society', an organization formed to cultivate and further an appreciation and formulation of poetry at Bloomfield College.   Paul's poetry is a sprawling, elliptical whirlwind combining wordplay, syllabic rhythm, topical issues and pop culture references. Often personal, but also tends to tiptoe the line of commentary on many divisive social issues.
Related Posts
« GOD'S BEARD – Vickie Dantel CIRCLES OF THE MOON & Other Poems – MJM LaBare »