Grandmother,
You sit,
Wrapped in your Persian melon-colored blanket,
Rock back and forth,
On that old rusty country porch,
Whom the neighbors across the street
Once called, Rusty Oak.
Spit tobacco. Hair braids in pigtails.
Sit postured, on the porch where we,
Often bow our heads together.

My head pressed downward,
Eyes misty,
You grab my chin and raise it to the sky.
Grandmother, those words, spoken so softly,
Yet so stern.
I remember, you said:
My bronze child,
Don't you look at your life upside down,
You got every bit of courage in you
To step upright and
Poke your chest to the weary sky.
You must have faith before you walk.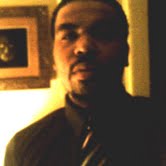 Quassan T. Castro has a MFA in Creative Writing from Fairleigh Dickinson University.  He is a journalist, columnist, entertainment and culture critic, poet and author. His work ranges from personal essays, fiction, poetry, music and book reviews, celebrity interviews and culture writing.  Quassan is social media publicist for Dr. bell hooks. His works have been featured in top national magazines and top online outlets that include Essence Magazine, Essence Magazine Online, Heart and Soul Magazine Online, BET (Black Entertainment Television), Black Enterprise Online, Jet Magazine Online, National Education Association and Huffington Post.   His work has published in several college literary anthologies including The Sundance Writer: A Rhetoric Handbook, Get Writing: Sentences and Paragraphs, Sundance Choice Composition and Structured Reading.
Related Posts
« LADY HAITI – Lugensky Durosier AT THE END OF THE DREAM I CAN FLY – David Trinidad »