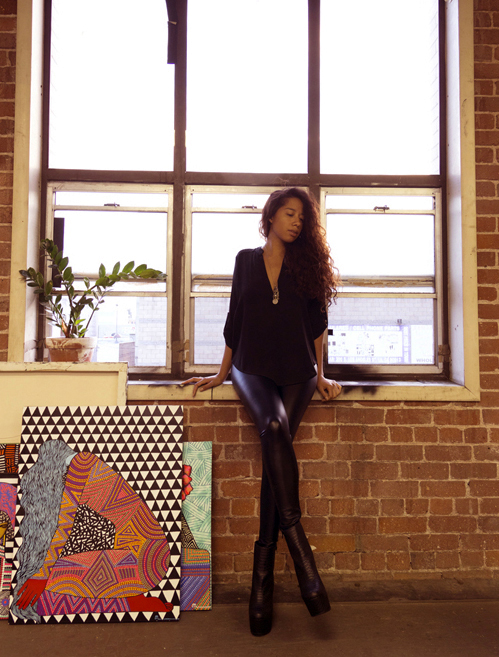 Michelle Robinson is a self-taught artist living and working in Los Angeles, California.  Her work explores bold contrasts, color palettes, patterns and the female form. Her figures float gracefully upon an intricate background comprised of over laying rhythmic patterns and tantalizing color harmonies. Natural or unfamiliar, loud or subtle, she creates whimsical interpretations of the human condition using the movement of the female body as her wholly intriguing and revealing device. Michelle's visions emanate from all that surrounds her. The figurative artwork demands a momentous conversation between itself and the viewer concerning self-empowerment, identity, community, sexuality, freedom and the human condition.
Apart from her signature subject: the female form, she also explores a purely abstracted interpretation. She concentrates on all the other elements in her work: patterns, texture, shapes. Doing this, She's made allowances for the texture and patterns to navigate the geometrical shapes, creating fluid abstraction.
Michelle's work challenges and withdraws; both bold and subtle, mixtures of meaning, depth and immaterial beauty. She suggests that ambiguous space is formed when both lucid and perplexed patterns and structured compositions contend for balance. With intricate patterns set against gilded negative space, Robinson composes a fine line between the weight of responsibility and the freedom found in the fantastical.
Robinson's work teases the viewer to find the space to hold tight amidst her use of textured hair patterns that speaks directly to Robinson's identity. The work transmits in code: juxtaposing soothing colors with intricate patterns, layering sharp geometric shapes in lush hue, then resting the eye with areas of gold leaf, creates abstracts that are erotically feminine.
Like womanhood, there is a complexity in the work that adds rather than distracts from the symmetry Robinson seeks to convey. A measured maturity informs her choices in pigment, form and implication. Soft lines and methodical shapes create a nuanced narrative of strength and suppleness: an invitation to fall into the enigmatic mystique of the fairer sex.
She has also added hand painted Art Wear to her itinerary. She combines two very strong forms of expression //art & fashion\\ to create one of the truest forms of self identity. She's a strong promoter of originality so each handpainted accessory will always be a one-of-a-kind.Each piece is born out of a necessity to express and inspire. Her pieces are made for the modern woman who desires to stand out and make a statement.
Connect with Michelle Robinson: Instagram @mister_michelle
Related Posts
« Why did you leave bring my batteries back — Robert Nazarene The Clothes I Wore in High School — Maria Mazziotti Gillan »