SPIRITUAL

Real estate
plants another tombstone—
"For Sale" signs
on every block

Like the rest of the city,
a lifestyle is under siege
by an urban plague.

The Village is dying,
taking the slow,
cancerous exit.

Below my feet,
apparition vibes
from artists, writers, singers,
musicians, and dancers.

John Coltrane's "Spiritual"
says prayers
for the living
and the dead.

Jazz
celebrates death,
New Orleans style.

It's raining
cool Lenten drops
on my umbrella.

---

SPEAK LOW

The breeze "speaks low,
speaks loud"
of the ocean's love
for the bay—
cools the summer heat
on my head.

On the bay—
a diamond galaxy,
a sun's reflection.

Nature in love
with herself.

A ship sails
under the bridge—
my mind wanders
in the opposite direction,
thinks of what was
and what should have been.

Love picks her favorites,
"plays hard to get."

Time is old,
hides her age,
but young enough
to steal my happiness.

The sun will shine
on the moon tonight,
but her mood
swings in cycles.

I'm not like the moon—
my cycles bleed,
eggs lost in darkness.

What I thought was love,
blew out at dusk.

The tide rises—
clockwise jazz
beats on the terrain.

In my head,
I hear Lady Day sing:

Love is a spark,
lost in the dark too soon,
too soon . . .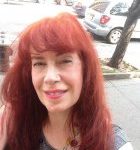 Patricia Carragon's recent publications include Bear Creek Haiku, First Literary Review-East, A Gathering of the Tribes, Jerry Jazz Musician, The Café Review, Muddy River Poetry Review, Krytyka Literacka, Panoplyzine, Poetrybay, and Sensitive Skin. Her latest books from Poets Wear Prada are Meowku and The Cupcake Chronicles, and Innocence from Finishing Line Press. Her first novel, "Angel Fire," is forthcoming from Alien Buddha Press. Patricia hosts Brownstone Poets and is the editor-in-chief of its annual anthology. She is an executive editor for Home Planet News Online.
Related Posts
« MY FATHER AS POLITICAL THEATER – Paul Genega THREE POEMS – Toni Mergentime Levi »