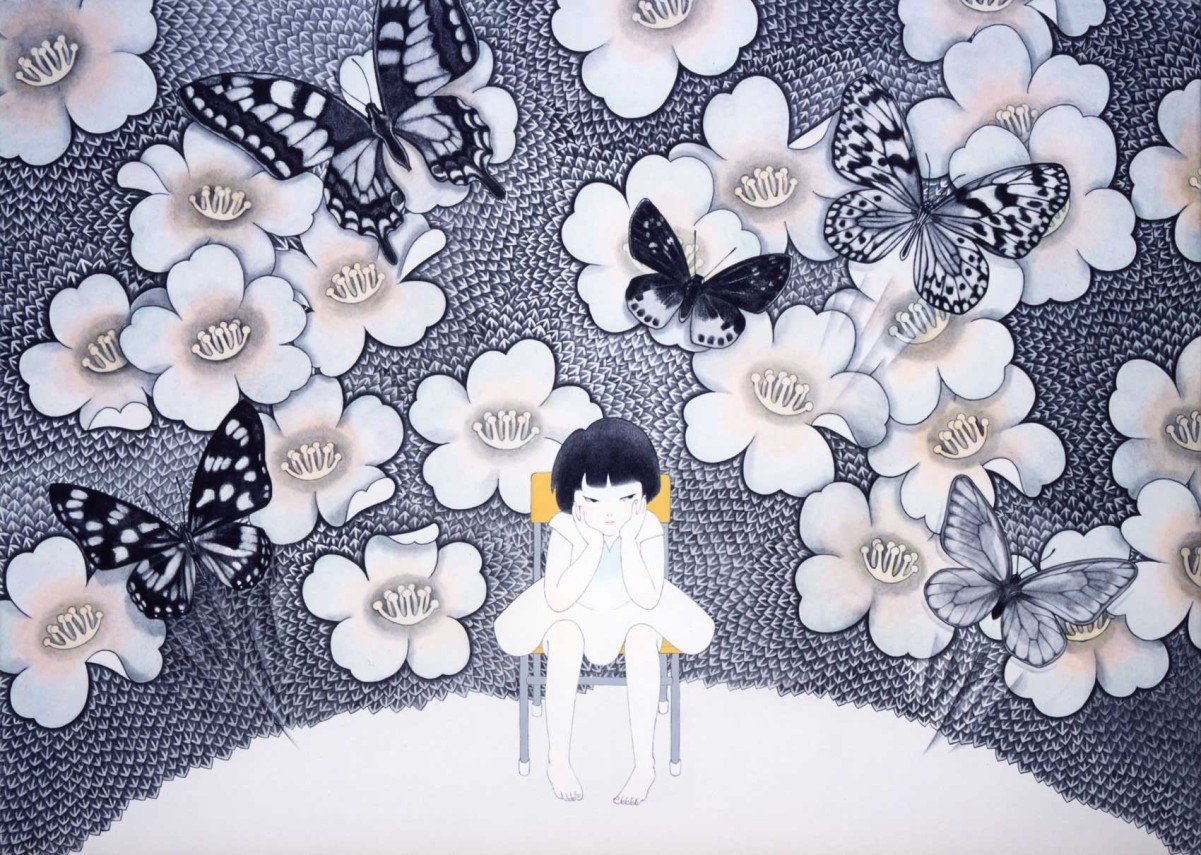 under a bloated sun
the smoke of a hundred wildfires
and five drops of rain

on the leaves of an
olive tree circle shadows
of turkey vulture

yucca petal
thrown upon the sword
of its own leaf

scrub jay
so wet it's mistaken
for a stellar's

in the dark of night,
under fishtail fern, an ant
walks across my neck

from the bridge
I touch an egret below
with my hand's shadow


Justyn Hegreberg is a visual artist and writer based in Portland, Oregon. Their work has been shown in San Francisco, Portland, Seattle, New York, Miami, Helsinki, and in New American Paintings #115. They founded a 252 square inch gallery on the table beside their bed. Bedside Gallery shows small work and publications from artists and writers from around the world.

---
SUMMER CYCLE

My daughter is eating
the tomatoes I planted
near her daisy patch

A happy garden–
colorful toys on the floor,
my daughter laughing

the fickle curtains–
my daughter plays peek-a-boo,
her life as a moth

Birds in the bath fly
to the fence and wait there for
a thirsty squirrel

Curling smoke, burnt meat,
the drone of lawnmower bees–
an ant hill on fire

Hot night in autumn–
the world must still be tilted
closer to the sun

The last tomatoes–
green, hard, delicious – ripen
by the cold window


Joseph E. Petta is a lifelong resident of Bergen County, NJ, where he grows his daughter and the occasional heirloom tomato. Formerly a librarian at Passaic County Community College, he currently teaches composition, reading, and library research skills at Felician University. He was inspired to write haiku so many years ago by the unadorned imagist poetry of William Carlos Williams.
---
Vetoed Triple Haiku

"And Alan Ginsberg's back in town talking about god a lot."
— Frank O'Hara
Indian summer
men's wilderness rave weekend
outside Ukiah…

son proposes — three
generations including
two year-old Ben Blaze…

through our ecstasy's
soft afterglow, my boy's wife
bellows a hard, No!


Gerard Sarnat's recently been nominated for a Pushcart Prize. He's authored four collections: HOMELESS CHRONICLES (2010), Disputes (2012), 17s (2014) and Melting The Ice King (2016) which included work published in Gargoyle, Lowestoft, American Journal of Poetry, Main Street Rag, New Delta Review, Tishman Review plus was featured in New Verse News, Songs of Eretz, Avocet, LEVELER, tNY, StepAway, Bywords, Floor Plan. Radius, Foliate Oak, Dark Run, Scarlet Leaf, Good Men Project, Anti-Heroin Chic, Winamop, Poetry Circle, Tipton Review, Creative Truth, Harbor Village, KYSO, Rumblefish and Ordinary Madness' debut feature sets of new poems. "Amber Of Memory" was the single poem chosen for my 50th college reunion symposium on Bob Dylan; the Harvard Advocate accepted a second plus Oberlin, Brown and other universities in and outside the US accepted concurrent pieces. Mount Analogue selected Sarnat's sequence, KADDISH FOR THE COUNTRY, for distribution as a pamphlet in Seattle on Inauguration Day 2017 as well as the next morning as part of the Washington DC and nationwide Women's Marches. In August Failed Haiku presented his work first among over a hundred contributors. For Huffington Post/other reviews, readings, publications, interviews; visit GerardSarnat.com. Harvard/Stanford educated, Gerry's worked in jails, built/staffed clinics for the marginalized, been a CEO of healthcare organizations and Stanford Medical School professor. Married since 1969, he has three children, four grandkids.

---
Cold, November field
Lone dove combs another row
Sorrow, its hunger
Swifts keep inscribing
An empty, cobalt tablet
With cursive goodbyes
The past, a molted
Snakeskin that misses itself
Swallowing life whole
The dawn discovers
Silver, autumn artifacts—
Trilobites of frost
This emptiness stays,
The way canyons hold shadows
On the brightest day—
He stepped on the porch
Her heart, a covey of quail
In all directions
A December mist lifts
Like her chilled breath before him,
Wreath filled with whispers
Hip-high goldenrod,
Memories of her touches
Brushing against him
From dark eye shadow
To those sometimes distant moods,
Dusk remembers her


Greg Sellers completed his undergraduate studies in English at Louisiana State University and holds a MFA in Creative Writing from Arizona State University and MLIS from the University of Alabama. His poems have appeared in Poetry, New Letters, Interdisciplinary Humanities, Zócalo Public Square, Spiritus, The Journal of Wild Culture and elsewhere. A recipient of a Ruth Lilly Poetry Fellowship and Mississippi Literary Arts Fellowship, Sellers lives with his family in Vicksburg, Mississippi, where he is the administrative librarian at Hinds Community College.

---


she touches me
with her eyes
a well-meaning alligator

her dress in the wind
a meadow rolled sheer
flattened flowers

walking into yellow
colour compacting
egg yolk hardening

migrating flock
a nestling forgotten
northern wind

tattered bird
begs the ground before
a homeless person

a hole widening
her chest
a bird's nest

Catriona Shine is an Irish writer, living in Norway, where she is also a practicing architect. She writes novels, short stories and Haiku. She was a runner up in the IAFOR Vladimir Davidé Haiku Award 2017 and her Haiku will be published in the coming anthology. That will be her first publication. Her novel-in-progress won the Penfro First Chapter Competition 2016, and was shortlisted in the TLC Pen Factor Writing Competition 2016. She is represented by Laetitia Rutherford of Watson Little in London.
---
Don't imitate me
never simulate half an orange
cut in two
Even the street lights
seem farther apart –
a rainy May day
The waxing May moon
sails amid the clouds – how soon
from new to full
Afternoon well spent –
watching cherry and plum
blossoms drift in air
The journey from home
to dojo, one hour by train,
begins with one step
Spring sprouts clichés –
haikuists must dig
deeper furrows
Finally leaving Sag Harbor,
I smell the rotting mussels
dropped on the road by gulls
George Held has published more than 150 haiku, several of which have won prizes. His chapbook, Dog Hill Poems, his twentieth poetry collection, is forthcoming in 2017.
A retired Queens College professor, Held was a Fulbright lecturer in Czechoslovakia for three years and now serves on the executive board of The South Fork Natural History Museum, in Bridgehampton. His poems, stories, translations, and book reviews have appeared widely, in such places as Commonweal, Confrontation, New York Quarterly, 5AM and The Notre Dame Review. Garrison Keillor read one of Helds's poems on NPR. An eight-time Pushcart Prize nominee, Held has had poems included in over three dozen anthologies. His twentieth collection of poems is Neighbors: The Water Critters (Filsinger & Co., 2015). geoheld7@gmail.com