When it's yourself who's looking
and looked at—

a myopic knowing in the morning,
sleep-struck and shocked—

this is my face!
Unshareable, one-of-a-kind blandness.

Alone in my apartment
I'm the prettiest boy in the room.

So why should you be one, too?
Better-face made better

by the arrangement of unequal things.
A strange beauty so foreign

it makes my heart sting. Jealousy,
a kind of locked-in syndrome.

But in the waiting room where I lurk
for Lasik of the soul,

I believe it's a miracle to have been
given a body at all.

Life is a celebration. By neon lights
and cellulite. We are not dead.
STR8 GYM BUDDIES
for Mark
You can smell them from here—
the alloyed bench press,

iron beam and barbell, the grainy grip
of blister and callous.

It's sinful synesthesia,
the hour spent in repetition and set,

extending their core—
cable raise, dead lift, upright row—

friction's copper wire
coiled and uncoiled by lateral lunge thrust,

until failure, until sore. What's voyeurism,
after all, but a lesson in resistance?

To lower your face
into that reddened strain of burden.

One more. Give me one more.
I could go on like this, too.

I love the language of cardiovascular desire,
looking's syntax in its steeliness,

tethered by limits, wrought form.
The threadbare cotton

of endurance spread over deltoids,
pivoting breastbone.

But if description's just encoded want,
why not decode the dénouement?

That muffled sigh of fatigue,
his index fingers curled to guide

the weight into its lock—
the way he slumps over, reveals the thin

crest of waist, between underwear
band and shirt,

and I rest the brim of my feeling there,
across the skin,

the tan line,
the few blond sprouting hairs.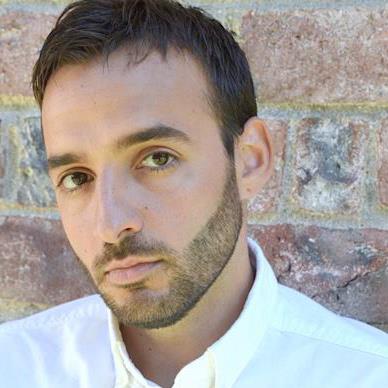 Angelo Nikolopoulos is the author of Obscenely Yours, winner of the 2011 Kinereth Gensler Award from Alice James Books. His poems have appeared in Best American Poetry 2012, Best New Poets 2011, Boston Review, Fence, The Los Angeles Review, Tin House, and elsewhere. He is a winner of the 2011 "Discovery" / Boston Review Poetry Contest and the founder of the White Swallow Reading Series in Manhattan. For more information, visit: http://alicejamesbooks.org/ajb-titles/obscenely-yours/
Related Posts
« AT THE END OF THE DREAM I CAN FLY – David Trinidad I OPEN A BOX – Maria Mazziotti Gillan »