IN TAMIKA'S BASEMENT

Sorta stoned from the spray paint fumes.

* TWISTED FUCKEN SISTER *

Alternating black and hot-pink letters
scrawled across the white cotton sheet
lifted from her mother's linen closet.

We're not gonna take it, Tamika sang,
rattling both paint cans like maracas.
If I can't hang it from the balcony,
I'll wear it as a cape. Rush the stage!

My 14-year-old Superwoman. Unafraid:
ID-checking bouncers, mosh-pit metalheads,
her mother. What're you gonna tell her?

I'm sleeping over your house—duh!

An all-access pass. To my bedroom.
The demure boy. (A twisted sister?)
As her accomplice I bubbled
like the second coat of hot pink.

Shivering in shorts, she kissed me
G'night beneath the corner streetlight,
my shadow spilling into hers—our odd shape
a tattoo on the asphalt where I imagined
the skid marks we'd one day leave.

---

SUMMER'S EVE (90'S GIRL BAND, NYC)

Who could've guessed a girl clumsy as a blind giraffe
on roller skates—the meatiest of the varsity softball team—
would one day summon, jangling a scuffed tambourine,
the gaggle of tattooed groupies, their mangy backpacks
stuffed with sanitary napkins for sticking to their bare chests
when you finally sang their request: Maxi, Maxi, Maxi Pad …
splattering Pollock-style all those open-mouthed boys
with a douche spritz—the girl who gave suburbia the slip
now pounding her dusty footprints into the floorboards
where Blondie and The Ramones lashed out their own bitter arias.

Tamika,
what would you have carried in your garter had you seen 30?
Your stash? A stiletto? Bells to warn us when you were coming?

CBGB's is gone now too, your old stomping ground
a John Varvatos boutique. Yeah, men's high fashion—
where your shabby boys once came to be baptized.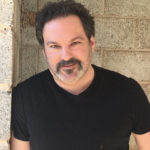 Michael Montlack is editor of the Lambda Finalist essay anthology My Diva (University of Wisconsin Press) and author of the poetry collection Cool Limbo (NYQ Books). Recently his work appeared in North American Review, The Offing, Hotel Amerika, Poet Lore, and Los Angeles Review. His essays have appeared in Huffington Post and Advocate.com.
Related Posts
« TWO POEMS – Anton Yakovlev THREE POEMS – Anne Jennings Paris »