NATURALIZED

The blinds on your windows have learned to make their own movies
and long outclass your transactions with ocean fleece.

Naturally predisposed to back flips,
you've become a dehydrated plant wrapped around a mostly-forgotten statue
no one will ever use
until rearranged
continents admit something
and no one is there to be their tree in the forest.

It's been years since blood pumped through garden hoses,
but you still remember every death.
Stars forgot how to spy on you,
but you continue to feel their spying
due to the same delay that will make them visible
even after their Yorick moments.

You want people to play tennis with what you say,
but an immigrant child in the village frog pond
screamed for help in his own language and drowned.

You wander through the tail days of summer
searching for pumpkin beer in immigrant stores,
putting ice on your creepy neck
and rye from closed distilleries in your cheeks.

They've spurned you by playing you
the unauthorized director's cut of your movie

until you hoped for more allergies.
Now every reed bends lower than the river.

Fake meat arrives in the mail.
There cannot be any questions.

Every car you cry in suggests a joke.

The wooden huts of the people you recall out of so-called nowhere
hop around your front yard on their chicken legs.
The people will not come out.

Your Arc de Triomphe fell asleep
and went off the road last night.

---

BREAK

Sunlight looks great on your brush
but no paint ever sticks to the canvas
and how can you burn a painting until there is a painting?
Throw your paint and see it stop in mid-air.

Air rolls in air, polluted with Prince Oblonsky smiles.

They rolled away your baby grand years ago,
and did you ever believe in hammers?

You could write a letter to a lapsed friend, detailing
that restless cardinal's rap chorus outside
your window. You know that could be enough.

Something squats in your aorta.

Lately you've been overcomplicating things
like love, drowning it in folklore.

Booze feels like ballroom dancing.

Your doppelganger is a pizza joint
in the township on the other side of the median
covered with cartoons
full of ambition
to make miracles you can't get rid of.

Visitors write religions on paper planes.
Death would validate things, but its microphone is broken.
Better wait for another god to roll by.

After all, it's twenty minutes to your next brain.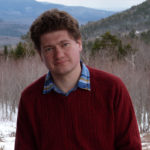 Anton Yakovlev's latest chapbook
Chronos Dines Alone
, winner of the James Tate Poetry Prize 2018, was published by SurVision Books. He is also the author of
Ordinary
Impalers
(Kelsay Books, 2017) and two prior chapbooks. His poems have appeared in
The New Yorker, The Hopkins Review, Measure, Amarillo Bay
, and elsewhere.
The Last Poet of the Village
, a book of translations of poetry by Sergei Yesenin, is forthcoming from Sensitive Skin Books. Yakovlev is the current Education Director at Bowery Poetry Club. He has also written and directed several short films.
Related Posts
« THREE POEMS – Kelli Stevens Kane TWO POEMS & THREE PHOTOS – MICHAEL MONTLACK »