of hog plums & figs, there's a song
but the coconut tree is sleeping

so I don't compose under it or ask it for shade
My guitar has a fever in it; it needs its own seat.

We were taught if we pointed at a grave
the finger we pointed with would rot

within three days, & could only be saved
by spitting on the finger twice,

we learned not to pick up coins on the road
so we wouldn't be bronzed by the coin's worry,

not to write our names in the sand
at the beach or else the water would claim us;

praise what you know.
I know songwriting is a treachery

& what belongs to the earth belongs to the earth.
I cross grasslands, split legumes

to a trail of soybeans, bathe by the river
swallowing saltwater, sweet Trinidad,

I come to copyright my blood
by shaking songs out of me

which belong to you.
Air curried with cologne, exhale of bitters,

mingling, swirling around my height
like an unsettled spirit, the taxi

engine sputtering like a withdrawn rage.
Arena of phallic moods, prose against politics,

the country's book coming to life with a second face,
a British war hero's name, Kitchener.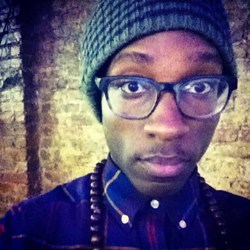 Sean DesVignes is a Beinecke Scholar and MFA candidate at New York University. His poetry has won the Beatrice Dubin Rose Award & the Burton A. Goldberg Prize. He is a poetry editor at shufPoetry and a Cave Canem Fellow. He lives in Brooklyn, NY.
Related Posts
« Between Love And A Breath – Loren Kleinman TWO POEMS – Emily Alexander »