A false lake. Sheen of a wanton flotilla peached in blue.
The rented Nissan. Loam off green mountain. Explosions
in the distance. Trails fractured and rethreaded.
A cast of hawks drifts above, some
scanning the Reservoir. Eight thousand acres
forty mile shore. Water christened
the Iroquois word for fish. Ashokan. Ashokan.
What world we invaded. Emerald marsh
bore and grouse, toad and crappie
violet thistle spreading. You waded
waist deep into that absolute. And it was beautiful.
A life connected on young hips. An abstract
of time carved out of a brief moment
we swam in, dove deep inside
plodding along wet stone. Shivering
white tears in our fabric. We heard
they found a boy at the bottom. Busted
neck in 100 July degrees. That night
we slept in a tent sweating. Two bottles
between us. Wet cloths sponging
the gaunt ribs and paunch about
our hollow insides. I slept beside you.
I thought of those men and your body.
The soft and blistered prune of weeping pore.
An Empire moon cascade across your face.
Morning. The radio on: A cat crazed
with rabies attacks the tires of a truck
behind a Shell. Independence Day
unraveled hearts, just beginning then
to beat like it was over. And it was okay.
EFFETE
There's a raptor perched on the belt of Orion.
Marielle from Plattsburgh shuffles a deck.
The sea of hiccups is playful and pacifying.
I'm beluga-finned and tie dyed iodine flannel
slow and frozen in the drift of a new amnesia.
We're not sure there is a cure for this.
And my hair falls out. And your mind falls off
and                    and          and
the wind just sails.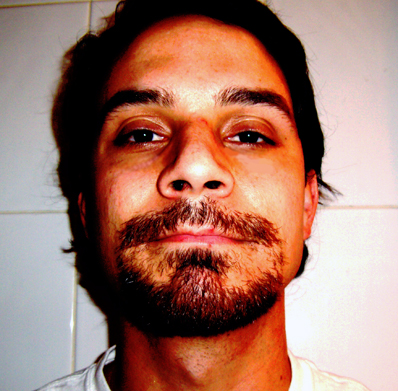 Boona Daroom is 30. His poetry has appeared in SOFTBLOW, LIT, NoDear and other places. He lives in Brooklyn.
Related Posts
« ELEGY – Rachel Eliza Griffiths EDISON, NEW JERSEY – Junot Diaz »