Kiss of strawberry, a thug,
yet like nectar to me—
at least in the beginning.
Hint of raspberry,
pizzazz and dazzle,
every inch of him.
A phase of cranberry
completely convinced me
that he was good for me.
Strawberries turn to raspberries
Raspberries into cran—
it could no longer be
he without me
as he drowned
in my cherry sea.
But then
berries became bitter,
sour, acidic,
memories of what were
ripe and luscious
became daily crutches.
"Maybe he will change."
But oh,
the only changes were
Straw, rasp and cranberries
turning into black and blue berries
staining my toffee-colored skin.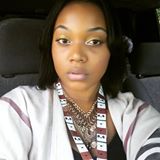 Sabrina Pinthiere is a poet and the mom of two amazing children, four year old, Knowlan Cazimir, and his one year old brother, Corey Ahmir. The twenty-eight year old, who comes from a proud Haitian household, is currently working as a lead teacher at private day care center. When she has time, she loves to play with words and holds an English Degree with a concentration in creative writing from Bloomfield College.
Related Posts
« TWO POEMS – Margo Harvey THE BANCROFT MILL – A.E. Milford »