i.m. India's missing girls
This is not really myth or secret.
This murmur in the mouth
of the mountain where the sound
of rain is born. This surging
past pilgrim town and village well.
This coin-thin vagina
and acid stain of bone.
This doctor with his rusty tools,
this street cleaner, this mother
laying down the bloody offerings
of birth. This is not the cry
of a beginning, or a river
buried in the bowels of the earth.
This is the sound of ten million girls
singing of a time in the universe
when they were born with tigers
breathing between their thighs;
when they set out for battle
with all three eyes on fire,
their golden breasts held high
like weapons to the sky.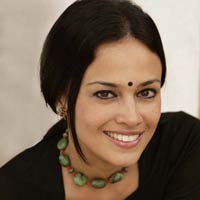 Tishani Doshi was born in the city formerly known as MADRAS in 1975.She has published five books of fiction, non-fiction and poetry. Her essays, poems and short stories have been widely anthologized. In 2012 she represented India at a historic gathering of world poets for Poetry Parnassus at the Southbank Centre, London. She is also the recipient of an Eric Gregory Award for Poetry, winner of the All-India Poetry Competition, and her first book, COUNTRIES OF THE BODY, won the prestigious Forward Prize for Best First Collection. Tishani's debut novel, THE PLEASURE SEEKERS, was shortlisted for the Hindu Literary Prize and long-listed for the Orange Prize and the International IMPAC Dublin Literary Award. She currently lives on the beach between two fishing villages in Tamil Nadu with her husband and three dogs.
Related Posts
« GENDER – Michael Montlack Gone the Body, Its Accessories – Rigoberto Gonzalez »