when you walk up exactly six chipped and
weathered stone stairs to rap gently on a door.
You count the number of stairs in your throat.
You count them with the dry click of your shoes.
At first, you simply brush the door with the back
of your fingers, thinking I have just walked up
six stone stairs. On the other side of that door
is a woman whose only son, just hours before,
lay face down in snow shower, kinged by a halo
of blood. There will come the time when you set
your face in the straight line you are paid for
and you will ask the woman to bellow her son's
snipped bio while her unkempt nails, blaring
red, leave half-moons in your forearm. You fix
your eyes on the cotton of her housedress,
ironed raw, standing stiffly away from her body.
Her exploded afro is frozen in the terror of half-
sleep, and its stunned tangle you can really see
the moment when someone came to tell her
that the sure clockwork of her boy had stopped.
You study a tiny bleeding pimple on her chin,
the gorgeous pattern of her voice on your arm,
anything to stop the plummet into those eyes.
You ask simple questions of one-syllable words:
How old was he?
Was in good in school?
When was the last time you saw him?
Was he good at sports?
and was digs like a hungry, rusty-bubbled blade
into her answers. Her words are less than hollow,
and your pen glides across the paper, forgetting
the past tense, capital letters, the past tense.
Someone has built a hasty altar to her boy, with his
picture, a Red Sox cap with a sweat-ringed rim,
a display of school papers with Cs or Bs scrawled
in red across the top. You stare at the picture of him
not being dead. A hint of mustache shadows his lip.
He was a good boy, she keeps saying, still digging
the truth into your arm, and you just bet he was,
but he is also a dead boy who just had his hours
blown out of whack by a bullet, and that is the only
reason you are here in this tiny apartment at the top
of six stone stairs, suffering the smell of last night's
thick-peppered chicken soaking in cool oil and asking
your questions and scribbling her answers and handing
a safety pin to the childless mother whose bare breast
has just poked through past the missing button of that
housedress. It is your job to put everyone who reads
this story into this cluttered room, to script a heartbeat
for a boy who just a few hours before was sprayed like
roses on the back of winter. As you get up to leave,
the woman claws at you and begs you not to leave her
alone with her drooping tribute and the sickening smell
of remembered food. You know what to do. You have
practiced the pulling away. You know it won't be long
before she forgets you, the reporter with the flat eyes
who gave her a pin for the gaping hole in her housedress.
She won't know how deftly you lied as you stood, your
hand on the doorknob, saying you were sorry, so sorry,
all the while thinking what a good story, what a good
story, what a goddamn good story, and wondering what
your lead will be–the altar, the begging woman, the bared
breast, or those six stairs leading to and away from it all.


THERE WILL COME ANOTHER TIME
You will pull out your pen and notebook, lock onto his eyes,
and you will say "raped" and he will flinch, a slap traveling
through his chest, and you vow to surround his wife's name
with less explosion, but not before managing to uttter "raped"
again. He begins to hate you the way a man with whiskey
mismanaging his fingers despises daybreak. They found her
by a dumpster, folded triple, her denims shredded shadow,
skin scarred with push. Bad, borderless jazz was loud in her
face. The bag, a thin blue fluttering from Hildalgo's, spilled
a lettuce head, aspirin, Tampax, coconut water and blood.
Watching TV, gaping at hoarders and mummified rats wedged
beneath warm Frigidaires, she had complained of a blooming
glow in her stomach and head. And the man who had brought
her gingerly to climax that morning remembered his Okay.
Be careful. You both know that she will die. Already, behind
some heavy silver door, his spine is being pulled up through
her throat. You drop your notebook and fill your arms with
a dead woman's husband. His snot and weep steam on your
bare shoulders as you push hard against him, open your mouth
on his slick neck, shift and shift, coax the slow traitorous uncurl
of his cock. There will come another time, when grief will rave
through his hours like a blue lyric. But today's lesson is one of
renegade landscape–every step a woman takes can go wrong.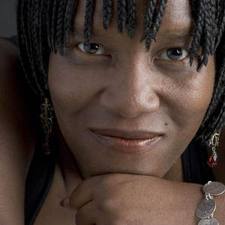 Patricia's work is featured in the 2011 editions of both Best American Poetry and Best American Essays. Her contribution to the anthology Staten Island Noir, which she also edited, won a Robert L. Fish Award from the Mystery Writers of America and is upcoming in Best American Mystery Stories 2013. Other honors include the National Poetry Series, two Pushcart Prizes and coveted MacDowell and Yaddo fellowships. In 2012, she was featured on the cover of the 100th anniversary issue of Poetry. Her groundbreaking book Blood Dazzler — which chronicles the human, emotional and physical toll exacted by Hurricane Katrina — was a finalist for the 2008 National Book Award, and one of NPR's Top Books of 2008. The book was the basis for a thrilling dance/theater collaboration, which sold out its performances at NYC's Harlem Stage. Other books include Teahouse of the Almighty, Close to Death, Big Towns, Big Talk, and Life According to Motown, just released in a 20th anniversary edition. She also penned the history book Africans in America and the award-winning children's book Janna and the Kings. She has won four National Poetry Slam individual champions.
Related Posts
« MIMIC & POEM – Valentina Cano DECEMBER, NEW DELHI & Poem – Rachel Eliza Griffiths »