From under the awning, I could hear a sound like small fragmenting pieces of stone crashing into the window. The rain was starting to pour down from above; listening to it for a moment, I inhaled slowly and exhaled the cooling air around me, my chest tightening as I felt the cold spreading slowly into my lungs. The insides of the window sills glistened with water, pockets of it trapped between them, bits of sun layered against them. The rain began to accumulate into a pool on the sills and began to drop from the sharp edges of the windows in a stream of small drops. The streets in Manhattan were battered with large raindrops that pounded everything around them as if conducting a frenzied soliloquy. The downpour sounded like a streaming river.
I waited, lazily transfixed, for the rain to subside. It didn't. Finally searching beneath the books at the bottom of my purse, I found my travel-sized umbrella. I wrestled with it, struggling until finally it flared open. The wind was blowing furiously toward me from the direction of my destination. I decided to walk with the storm and wrapped my fingers, firmly gripping my umbrella, hoping it would not steer me into the opposite direction.
As I began walking towards the street corner, I noticed my tan shoes bleeding, dark wet spots splattered across them, the rain now seeping into the fiber. Still, I did not find myself rushing to get indoors or anywhere for that matter. I stare at a row of streetlights, which suddenly begin to flicker simultaneously.
Standing on the corner, a traffic light in my periphery, I am still wondering and wandering. Rotating myself west, south, east and then north again, I notice a stream of puddles that has accumulated near the sewer. This reminds me of a conversation I had last Sunday with an old friend I met through work. He lives in South Africa, where they have experienced the worst drought in over a century. The dams were nearly dried out. They rationed water, beginning a debate on how to desalinate water from the oceans, a technology which may also burden the ecosystem even more. I tell him that here it rains for days, that it has rained day and night for the entire weekend. I am not sure why I tell him this, but for some reason I think he ought to know. We try to resolve these inconsistencies over the phone but neither of us has the answers.
South Africa recently sent crisis and disaster personnel to Beira in Mozambique. A cyclone enveloped an entire port city, now an inland ocean visible from outer space. Two major rivers and their banks have burst. Entire villages and communities submerged as a result of earths rioting. There is no electricity or running water. My thoughts wrestle with the puddles in the gutter in front of me, which have mixed with debris and other garbage, and glide into the sewers below.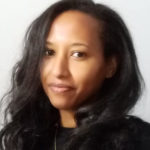 Saba Sebhatu was born in Italy and raised in Washington DC where she completed a BA in journalism. She then moved to Eritrea where she began working as a peacebuilding practitioner in conflict resolution initiatives in the Horn of Africa. A previous Callaloo Fellow, her current work focuses on the African Diaspora and their geographies. In Spring 2018 she was selected as a mentee by the Association of Writers and Writing Programs. She is currently pursuing her MFA in nonfiction writing at The New School in New York City.
Related Posts
« VAGINA – Kika Dorsey In The Cold Grey Morning – Micah Zevin »