tired now, of the passage of nightmares
and the weight each breach bears upon my chest
each morning, a new emptiness strains its voice
to plead the worth of its blood, to the earth
the only mouth that will receive it.
the way a small things yearns
to worm into a crook of flesh
and sprout a ladder
out from the darkness it knows
into its own true leaves
made, to sprout over
the firmament of me
and now, this is how it has come
to roost in the skin
the way a fever seers the flesh
a splendid tone of red
beneath the taut
tarp of a black sky.
this green, curbed into an arm
thrown over the frame of a stain
glass window, lending itself
to the upward current of air,
and the swaying of
my own true leaves
and now, this is how it has come
to roost in the fire,
in the heat of it, through its signs:
the fresh hot blood pulls forth
a robe undone. to
see it, the flame.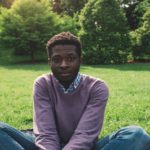 Emmanuel Oppong-Yeboah is a Ghanaian American poet living out the diaspora in Boston (Massachusetts). He is both Black & alive. Emmanuel is the reviews editor for Winter Tangerine and an associate editor for Maps for Teeth. He enjoys hot carbs, brightly colored chapbooks, and the long sigh at the end of a good book.
Related Posts
« OFFENSIVE – Leonore Hildebrandt "still life with my mother's hijab" & poem –Safia Elhillo »