Laura considered it an established fact that the female body was a pain in the ass.
From youth it was constantly wracked by hurricanes, snow and rain—by cramps and
pains, premenstrual craziness, menstrual craziness, post-menstrual craziness, Pill-related
craziness, loss and gain of weight and libido, urinary tract infections, yeast infections, not
to mention the smorgasbord of ridiculous changes that was pregnancy. There were so
many things that ached, cramped and eventually drooped. So many places an eponymous
cancer could settle—breasts, uterus, ovaries—and so many specifically female illnesses.
The male body seemed like a sunny campsite in comparison.
But for weeks that fall—or was it actually months?—the suspicion that something
was really wrong kept resurfacing. Some kind of hormonal surge was making her
strangely angry in ordinary situations, like the weekly meetings at work. She hadn't felt
anything similarly uncontrollable since she was pregnant with Ella.
When Laura finally did see a specialist in late November, it became clear that she
was in fact leaving the troubling days of having a female body behind. She was only 36,
but was in menopause—or "experiencing premature ovary failure."
"Sometimes these things just happen," the doctor said.
Laura's daughter, Ella, was almost four. She was very pale and often quiet. Her
hair was fine and light. During winter, she sometimes reminded Laura of a little jellyfish.
She was beautiful and perfectly formed, neither plump nor limp, but it was as if her small
doll features were made of something a bit too fragile. As if, if you pricked her, clear
liquid would leak out and she might disappear completely. As she gazed at Ella picking at
her oatmeal, what her mother used to say to her when she was a kid would pop up in her
mind: "You have to eat your dinner or you'll shrink until there's nothing left of you but a
little wet spot!"
Mornings alone with Ella were Laura's favorite time of day. She would wake to
the alarm and pad quietly into Ella's bedroom, a converted dressing room with pale
yellow wallpaper. She would lift Ella out of her bed in the corner and carry the lovely
sleep-scented bundle of her into the warm bathroom, then set her carefully down on her
feet in the middle of the floor. Ella would stand there quietly blinking and yawning while
Laura unbuttoned her footie pajamas and dressed her while NPR played at low volume on
the radio. It took about half an hour before Ella started speaking in the mornings. Before
that, the only noise that came from her was the sound of her small breaths when your ear
was next to her mouth. She was perfectly self-contained, like a peaceful little animal.
The first hot flash arrived at work, and was nothing more than a little frisson, like
blushing. Finally something that isn't as bad as they say, she'd actually dared to think.
Two months later she was waking up glowing with heat every night, the bed soaked with
sweat. At any moment during the day, a wave of intense heat could start on her back
below her bra and spread up the back of her neck and over her forehead, and sweat would
break out all over her body. It seemed to predominantly happen when she was out
somewhere, in the supermarket, at work, or having a conversation with someone in Ella's
daycare. Clothes became a sudden terror. All these garments hemmed her in, clasps and
belts and zippers and buttons choking her. Even if she could have undressed, she
couldn't have gotten them off fast enough. Her hair was in her face all the time, and this
cut didn't even look good. It was January but she'd never sweated so much in her life,
fourteen New York summers included.
There were other changes. She was aware that her face was becoming drawn, like
when you put your fingers on a face of clay and pull so its entire character is changed.
She was aging. A deep frown was settling. Her eyes were irrevocably starting to belong
to a sad face. A face people might snag on and look again, because she looked really
awful, heartbroken. She would see people like that, people who couldn't muster up the
energy to conform their faces to what the world expected, and she'd imagine that they
were going through a divorce, or God forbid that their child had died. She'd sat across
from a stylish middle-aged lady with sharp Louise Brooks hair on the subway one day.
The toes of her lace-up boots were turned towards each other. Her lipsticked mouth
suddenly opened like she was about to scream for her life. Laura braced herself, but it
was just a yawn, just what a yawn looked like for someone for whom nothing was ever
all right.
The subway in particular was becoming intolerable; the need to keep track of Ella
and two sets of gloves, scarves and hats for the freezing wind outside, while all the time
angling her shoulder for her purse and carrying bags of heavy groceries, always in a
crowd. People never gave up their seats. Not to mention refraining from snapping at Ella
for all her sudden three-year-old projects that slowed them down and created chaos. So
many parts of maintaining daily life were painful and annoying. A sudden enormous
anger at it all would arrive with an intense desire to tear, kick and push. People in her
way, the paper bags containing heavy red cabbage she had bought to get some of those
healthy whatevers it was that dark color vegetables had. Did the cabbage even have it?
Devoid of antioxidants, heavy, upsetting to the stomach. Why had she even bought the
stupid thing! Oh for the love of GOD! She found herself more and more often thundering
curses at inanimate objects that didn't work, things that spilled and fell, stinky, staining
oil from the expensive sardines she tried to eat for her bone density's sake. Objects
dropped, broken and trailing behind her, stacks of clothes falling out of the closet when
she was trying to get a box of papers down without bothering to get a chair to stand on.
Fuuucckk you, fucking behave your fucking self you fucking goddamn piece of shit! She
had to invent new curses to fit all her anger, the indignity of it all. They melded with her
attempts to not swear in front of Ella into strangely inventive and sometimes extremely
crude words. Ratmonster fuckshit! Assbastardbloodycrapfuck!
She had lots of time to ruminate. While her workdays at the bank were long, they
were also dull. There were friends, but you always had to plan things a long time in
advance. Somehow when it came down to setting something up, it seemed easier to just
postpone making a call. In the end she often watched TV for hours in the evenings in
their tiny living room, restlessly getting up from the couch to tidy a drawer or to lean over
the dinner table and look out the window onto the street.
Her friends had been telling her to start dating again, and one morning in the
privacy of her cubicle, walls covered in Ella's drawings, she finally created a profile on
an online dating service. She spent a half hour trying to come up with a good username
while overhearing her boss on the phone a few doors down. Finally, the rather awkward
UWSmom was the best she could do. Something made her check all the boxes of things to
be interested in. Short and long term dating, activity partners, and after hovering over it
for a while, casual sex. After a lot of doubt she included an old full blurry figure photo
from an old vacation email. She was pretty sure her face couldn't be completely
recognized. She only filled in the profile with a few brief sentences about liking to read
and listen to music. Still, within the day, the inbox steadily filled with messages from
men who politely inquired about her day and her preferences in literature. Amazingly
enough, none of the messages were crude, even though it was clear that they were writing
to her because of the casual sex. She could click on their profiles and look at all these
young attractive men she in theory could go out and meet as soon as she could get a
babysitter. There they were, displaying their tan, ripped bellies at what seemed to be an
eternal barbecue party chock full of young handsome men laughing at the camera with
raised beer glasses. She leaned close to the screen, tilting her head with her mouth open.
How much would she have to do to her body before she could show it to anyone? Would
her razor and a month of nightly Pilates in front of the TV do it? What an idiotic waste to
wait until now to do this.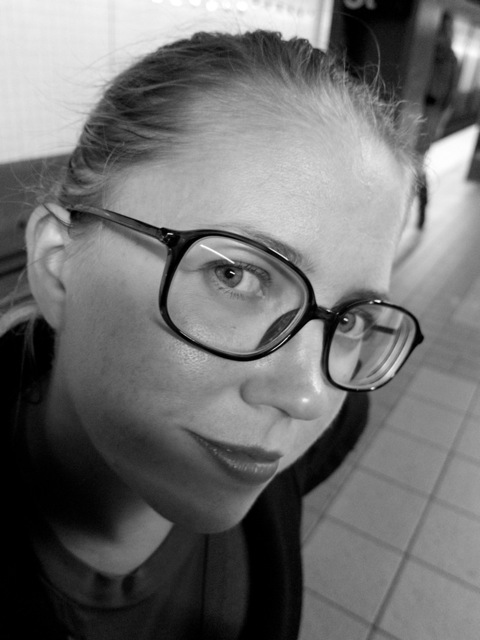 Karen Havelin is a writer and translator from Bergen, Norway. She attended Skrivekunst-akademiet i Hordaland, and has a Bachelor's degree in French, literature and gender studies from the University of Bergen and University of Paris Sorbonne. She completed her MFA in Fiction from Columbia University in May 2013. Her poems have been published in Norwegian literary magazines. She currently lives in Oslo, Norway and she is working on a novel about themes of the body, such as illness, pain and sexuality.
Related Posts
« THE DEATH OF EVE & POEM — Antje Katcher The Visitation — Blair Hurley »