SPIRAL

Three spirals bound
to one another
Three sisters
At the edge of a stone
what is the cosmos but a radial movement outward?
to touch the fabric of one
to see the astral projection of their other
to forget for one moment
that it is only a projection

Spiral is not spire
Not arrows
Not shields
Not shells
It is a movement
the circles inside the corpus of a great tree
A slice of granite
A loop of river-bone
Our family of memory
The lost reflections of our arms and hands and our cheeks and our eyes
the reflection at the edge of the mirror
The sound of a voice as it travels up from a basement
into the drawing room
absent of folk—absent of fire
a cold dream the dark earth has of clouds and air

The spire, the sword,
embrace all ways
to enter
touch the life force
touch that which only momentarily scrapes up
against
spiral that bleeds a shaft of light
as dust in a ray of sun floats in a doorway

---

THE FLOODING

after Gerald Stern
On all these parched paths, in all this tattered landscape
and arid wind and sapless woods
I have never seen a drought
which made the ground so cracked
nor heard "Flores Negras" the way I did
in 1980 in that cherry tree house
on Sarah Lane, nor sang as I did
then, my stars all flickering, my hair all singing
my mother full of teeth, my father holding his
voice out laughing, doing the dance
of guitar and spirits, the sound of the strings, half cry
half chuckle, the world at last a river of ice melt
the three of us meandering and rippling,
as eager as the flash flood as if we rushed towards unknown—in 1980—
in New Mexico, strange thirsty New Mexico, desert
of the Rio Grande, an hour away
my aunt's house—
the overwhelming course of birth
oh God of rivers, oh swiftly running God.

---

VELELLA VELELLA

It was the sight of death we saw first.
The long silent beach and the warm carcasses of the jellies—
thousands of them—camped—waiting for the end.
Little cellophane boats entangled in kelp.
The sail-like appendages had the suggestion of sliced ginger.
The clump-float was once buoyant on the water.
Some became nests for sand fleas.
Some lay in a pool of salt and brine.
Their clear sails shivering against the day's breeze.
Some piled,
letting their color leak into the sand below,
a crackle of blue fire and purple ooze.
And some still sailing in the afternoon tide—
humming to themselves,
drifting songs for zooids.
How long did they wander?
Their hollow tentacles were ghost hairs
collecting the floating life beneath.
Slowly they maundered into death, guided by the wind.
My father filled his pockets with them
and walked along the ocean throwing them back.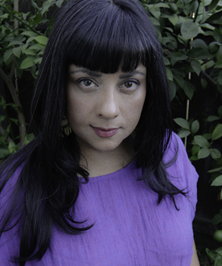 Marisol Baca is the author of Tremor, a full length collection of poems forthcoming from Three Mile Harbor Press. She was born in Albuquerque, New Mexico, and grew up around generations of family in an old adobe house with a horno in the back that her father built. Her family later settled in Fresno, California. She grew up within a family of educators, artists, and writers, and at an early age began writing poems and songs. Marisol received her bachelors in English from Fresno State University and won the Andres Montoya poetry scholarship prize. She received a fellowship from Cornell University, and in 2006, she received her Master of Fine Arts. While at Cornell, she won the Robert Chasen poetry award for her poem, Revelato. Currently, Marisol is an English professor at Fresno City College. She lives in Fresno with her husband in a house in the center of town. She continues to write and teach, and is busy working on her second book. Her poetry has been published in Riverlit, Shadowed: An Anthology of Women Writers, Asentos Review, among others publications.
Related Posts
« NEELA: BHOPAL,1984 – Chaya Bhuvaneswar TWO POEMS – Simon Perchik »