THE MIND-BODY PROBLEM

A woman is housing,
is keeping the darks
from the lights, is splitting

wings from breasts, dividing
one into knives and spoons,
answering: What's for dinner?
Have you seen my? Why
is the gas bill so high?

A woman
is fragmenting, tectonic plating. A shoe
left on the stair again.

She is stealing to a quiet shade,
trying to save some paradise.

*
No, she answers, there is no more ice cream—
no lick, no trace.

---

ONLY MEAN BONES

I'm becoming an open honey comb of bone,
a canted weave, a clutch of shells
eroded by the sea. I'm becoming bone

friable as a fender rusted by salt winters.
A pelvis translucent—china cup, too brittle for tea.
Holy relic. My body, its own catacomb.

O sieve of hips, may you sing
like Sappho's broken poems, while I write
in swirls and curves, wear away my wrist bones.

---

REQUISITES OF A GOOD LETTER

from Manners for Millions

Try until you
find the stroke you like
They vary

Sit
with plenty of elbow room

Say "ceremony"
you will get more pleasure

The first thing is your

body

(Very truly yours, Yours sincerely, Affectionately yours)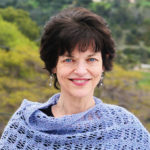 M. L. Brown is the author of Call It Mist, winner of the 2018 Three Mile Harbor Press Book Prize, and Drought, winner of the Claudia Emerson Chapbook award. Her work has appeared in Valparaiso Poetry Review, Prairie Schooner, and Blackbird, among other journals and anthologies. When not writing, she devotes her time to raising funds for a nonprofit health care organization. She lives in California.
Related Posts