My "drawings… are stream of consciousness 'outtakes…they straddle a border between reality and dream, past life & present. The beings that continue to emerge evoke subliminal, mysterious worlds – planets of my own creation, demimondes peopled with anthropomorphic 'angels with attitude', accompanied by chimeras & other intimate strangers. –Lori Field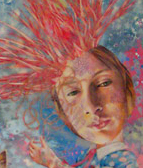 Lori Field is an artist living and working just outside of NYC in New Jersey.  She began her art career as an illustrator but 16 years ago a series of life-altering events caused her to rethink the direction of her creativity. She returned to her practice of fine art doing detailed, obsessively rendered colored pencil drawings, cut out, sewn into, and embedded into pigmented encaustic paintings as well as silverpoint drawings on gessoed paper.
She has been recognized with grants, residencies and awards including The Brodsky Center for Print and Paper Fellowship Award in 2004 and the New Jersey State Fellowship for the Arts Award in Painting in 2008. Lori has her work in the collections of several museums including the Newark Museum, New Jersey State Museum and the Hunterdon Museum of Art.
Lori had her first solo exhibition in NYC in March 2008 at Kinz + Tillou Fine Art. Lori is now represented by Claire Oliver Gallery in NYC, had her first solo show with them in September 2010 entitled 'The Sky is Falling'. Lori had paintings and drawings presented within an installation context in a solo exhibition at Illinois State University Art Galleries in February 2011.  She has just had her second solo exhibition, of silverpoint drawings, 'Wild Horses and Wallflowers' with the Claire Oliver Gallery this past October 2012. Lori's work will be in a three person exhibition, 'Wild Worlds' opening May 2013 at the Noyes Museum of Art (with Brian Meunier and Sally McInerney). Lori is also preparing for her third solo exhibition in Berlin, Germany in 2013. Curating, designing jewelry and textiles, and beginning an animation project featuring her drawings are all part of Lori's plans for the very near future.
Related Posts
« FALLEN SAINTS – Landzy Theodore ELEGY – Rachel Eliza Griffiths »