For Debra Alessandra
1.
I was in Mimi's garage apartment, three blocks from our high school and packed floor to ceiling with her kinetic collages and black and white photos, with Deb who said we had to hear this record, the first album by this guy up in Freehold who didn't smoke pot, maybe had a beer once a week and was always getting rid of band members for not working hard enough, and that made sense to me because Stanley said drugs interfered with the creative process, which is how some teens within 50 miles of Manhattan talked when trying to sound profound.
2.
We sat in silence on a pile of colorful pillows and got blasted to another planet, except it was a few miles north of where we lived but didn't want to.
3.
After Stanley killed himself I came home from work in D.C. and played "The Price You Pay, " over and over every night for a year and then it took me two decades to hear it again without weeping.
4.
When I discovered that Springsteen read Flannery O'Connor before I did I worried too long that I was losing my edge.
5.
When I learned he was helping veterans I thought of my hometown neighbor Don Seigwarth, always fixing things, who enlisted in the Air Force, was shot down, never found, declared dead, was as nice as his parents, and is every soldier who won't be remembered by enough people.
6.
When LIVE 75-85 was released , an acquaintance with a better stereo let me play it for the first time at his place, and he was as lonely as I was and he talked a little during each cut, and as I got up to leave I thanked him when I really wanted to scream HOW COULD YOU?
7.
I was never much of a screamer but I didn't take it well when a bunch of men got up to get more beer at the Oakland Arena during "This Hard Land."
8.
How can you be from Jersey and not need THE RISING? I said to a friend from Hackensack.
9.
When I heard the CD of Springsteen on Broadway I understood why a friend from LA spoke with force about the BORN TO RUN audio book, as opposed to the print version I'd devoured, because it was him reading, which is like he's right next to you, and of course what we were talking about was Communion.
10.
The night I met my husband, who was born in Stockton , California and helped pay for his Berkeley degree by working in a cannery, we talked for three hours, and about fifty minutes in I learned that he didn't believe in God so I quickly steered the conversation to the deal breaker.
 
11.
WESTERN STARS doesn't do as much for me as I'd wanted it to, but I will be wrecked when Springsteen stops stretching.
---
POST-SANDY SHORE
There was a time when storm was storm,
not cause for great alarm. It isn't so now.
Each storm brings a fear that can't be erased.
Waves pound blame into places where blame
never settled before. There was a time
when storm meant adventure and sailing
was gentle , and homes stood their ground.
It isn't the same at the shore anymore.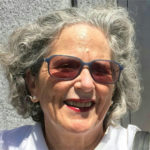 Barbara Berman's first full-length collection of poems, Currents, was published by 3 Mile Harbor Press in 2018. Her poetry has appeared over the years such literary magazines as: Coracle, Gargoyle; Lilith; 99 Poems for the 99 Per Cent; Poetica; OffCourse;100  Poets Against the War and other publications.  Her chapbook, The Generosity of Stars, was published by Finishing Line Press.  She has been active in the literary and publishing community since 1979, when she organized the first independent press book festivals in the country. Her poem "SAY NO" was published in the Village Voice Special Issue on Nuclear Disarmament.  It was then set to music by Australian composer Vincent Plush who was in residence at Yale that year.  The piece was performed in the United States and in Australia and elsewhere. Barbara's essays and book reviews have appeared in The Washington Post, The San Francisco Chronicle, The San Francisco Examiner, and other journals.  She has served on the jury of the California Book Awards and lives in San Francisco with her husband, Clifford Lee, an environmental lawyer. Her book reviews appear regularly in The Rumpus.
Related Posts
« THREE POEMS – Toni Mergentime Levi De Halve Moon – Pamela Kallimanis »