(SMARTPHONE VIDEO IMPROVISATIONS—CHICAGO—4/26/15)
AT THE ONSET OF SUNSET CITY UNSETTLED CHAIN HOTEL HELL MODERNIST HEAVEN THE PURGATORY OF MY ORATORY AND DID I MENTION THE 7-ELEVEN? LOS QUE SE VEN Y LOS QUE NO SE VEN LOS QUE SE ELEVAN Y LOS QUE NO SE ELEVAN Y TODO LO QUE CONLLEVA CAMINAR ONE FOOT AND THEN ANOTHER WHAT'S LOCOMOTION ON A GLOBAL STAGE? TECHNO-ONEUPMANSHIP ON A PHONE HAVING A FINE TIME STAGING AN URBANISM PRIME ESTATE FOR THE DELEVOPERS AND THE WAY THE MUSIC ENVELOPES ME POLYPS FOR MY MUTED VOCAL CORDS YOU CAN'T IGNORE THE CITY IT FOLLOWS YOU TE SIGUE TE SABE BEING LOOKED AT BEING LAUGHED AT SCRATCH THAT TAKE A RIDE INSIDE THE MENTAL HATCHBACK GO FIND ANOTHER WACK HABITAT AND LEAVE THIS ONE TO ME LET ME FLEE THE PEDIGREE OF THEM VICTORIAN AGES LET ME TURN THE PAGES ON CITY BEAUTIFUL LET ME BE IMBUED WITH UH BUSTLEHUSTLE BUSTLEHUSTLE BUSTLEHUSTLE BUSTLEHUSTLE BUSTLEHUSTLE BUSTLEHUSTLE NO OBSERVATION DECKS IN THIS CITY TO VIEW IS TO DISAVOW TO NAME ANOTHER STARBUCKS ANOTHER NORTH BANK ANOTHER FISHTANK FORGERY SEE I TOLD YOU THERE WAS A STARBUCKS NO STARS AND FEWER BUCKS BUT REFILLS MAYBE AND AFTER THE BATONS THE HYPERBATONS THE BETANCES'S AND THE MARTÍ'S AND THE LOLAS AND THE LOLITAS AND THE JUAN-MIGUEL-MILAGROS-OLGA-MANUEL NO NERVOUS BREAKDOWN ON THESE STREETS WEST CLARK IS WHERE I'LL REMIX ODE TO A SKYLARK IF THE DYING SUN DON'T GET TO ME FIRST CAN YOU READ MY FIRST THIRST OR MY LAST HUNGER? I'M FROM THE UH TELETHON UM TELETUBBY ERA NOT THE FRONTERA GRILL SWILL FUCK THAT MIERDA ¿A VER QUIÉN SE ACUERDA DE ARTHUR MURRAY? ESTUDIOS DE DANZA PA BAJAR LA PANZA EN CONFIANZA IT'S OBVIOUSLY NOT WORKING YET MAYBE I HAVE TO ASK AT ERIKSON INSTITUTE MAYBE LEIF CAN TELL ME MAYBE THIS CITY IS BEYOND BELIEF MAYBE EVERY CITY IS A BLUFF NOT IN THE ECO-NATURE-PROMONTORY SENSE BUT MORE IN THE MANNER OF A WAGER RIDING ON NOTHING MAKING YOURSELF BELIEVE THAT DEEP DISH IS DELISH THE WAY THEY MAKE IT AT GINO'S EAST SO FAR FROM URA'S SOUTH BUT I HAVE A BIG MOUTH I'LL FIND ROOM I'VE HAD MORE DISGUSTING THINGS IN MY MOUTH BEFORE AND WILL AGAIN PLENTY OF TIMES I SPIT OUT MORE THAN JUST WACK RHYMES LOOK IT'S CHICAGO THAT'S RHYMES SQUARE! WHERE? OKAY MAYBE THERE'S NO SUCH THING ¿QUÉ COSA HAY EN CHICAGO ENTONCES? ESTE NO ES EL POEMA DEL CHIC DEL LONG AGO LET'S SEE EXACTLY WHAT THE LANDMARK IS "LASALLE STREET CABLE CAR POWERHOUSE" CABLE CARS ARE INDEED POWERHOUSES RECUERDOS DE GIRONDO POEMAS PARA SER LEÍDOS EN EL TRANVÍA AND MINE WOULD BE WHAT? POEMS TO BE TEXTED WHILE EATING A DEEP DISH PIZZA POEMS TO BE TWEETED INTO THE VIRTUAL ETHER POEMS TO OCCUPY . . .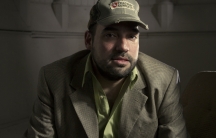 Originally from San Juan, Puerto Rico, Urayoán Noel is the author of several books of poetry in English and Spanish, including Los días porosos (Catafixia Editorial, Guatemala, 2012; rpt. Atarraya Cartonera, Puerto Rico, 2014), and Buzzing Hemisphere/Rumor Hemisférico (University of Arizona Press, 2015), as well as the critical study In Visible Movement: Nuyorican Poetry from the Sixties to Slam (University of Iowa Press, 2014), winner of the Latino Studies Book Award from the Latin American Studies Association. Also a translator and performer, and a former CantoMundo and Ford Foundation fellow, Noel lives in the Bronx and teaches at NYU. Learn more at http://urayoannoel.com/ and http://www.wokitokiteki.com/, an improvisational poetry vlog.
Related Posts
« Kafka's Axe & Michael's Vest — Chen Chen Dendrology & Sappho In New York – Yesenia Montilla »