The gew-gaws of false amber and false turquoise attract them.
      "Like to like nature": these agglutinous yellows!—Ezra Pound, from "Women Before A Shop."
Oh, yes, I have apples, but you look like someone with the
finest taste: come in back and try my more tropical gew-gaws:
guanabana better than pina-colada, my guava, my bunch
of Praying Hands bananas, clasped in desire, one false
prophet in each divine finger. Come in here! Scrape the amber
flesh from my mango skin with your spoiled teeth
and pluck sweet floral lychee and rambutan eyeballs from their false-
eyelashed, raspberry shells. Peel back the leathery, turquoise
hide of my custard apples, smartly designed to attract
specifically you. And suck the seeds smooth before spitting them
out! Halve the big brown teardrop of my mamey; finger its flesh
like a goblet of baby-food, apricot-marzipan custard of youth. You want to.
Nibble gently, at last, my sunny canistel, the texture
like egg yolk, the taste like vanilla, but also like nothing else in nature,
like you, like me. Stranger than fiction, more like tumors or monsters—these
rot-stinking jackfruits, I mean. Our insides are all just the little agglutinous
hearts of nature: synesthetic, bruised and light-bright yellows.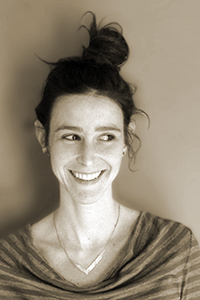 Sarah Trudgeon's poetry has appeared in the London Review of Books, Iron Horse Literary Review, Sewanee Theological Review, Smartish Pace, and The TLS, and is forthcoming from The Nation. Her reviews have appeared in The Cincinnati Review. She was a finalist for the Poetry Foundation's 2013 Ruth Lilly and Dorothy Sargent Rosenberg Fellowship. She teaches part-time at the University of Miami.
Related Posts
« SHE — Patricia Brooks Things Stuck in Other Things Where They Don't Belong — Chen Chen »