(for Lori Field)
for this creature like me

Searching with my brown puzzled neck
Closed my slender Asian eyes
Brought me to darken light
Taken away from this to be continued masquerade
The party continues without me
I call it my crown of glory
Because I have no story
Graffiti hidden sky
Water-colored lake
I dare not swim
Acrylic-painted leaves
From the tamboti tree
Waiting for my last meal
Violet leaves shows numerous sins,
What do I have to win?
Magnolia petals removed
Its poisonous taste
Another day to my fate
Written on my face
Grace
Traced stencils from my Asian race
Splattered dragonflies filled with grape juice
Tattooed on my aspired daisy arms
Hiding my shame
Secrets transparent only to God
Daisy arms placed together
Standing in submission
Praying for peace.

Summer, 2007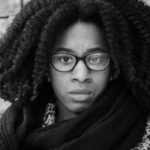 Regina M. Brunache is an Artist, Poet & Environmentalist. Graduate of Bloomfield College: Bachelor of Arts. Bloomfield College is a Presbyterian Liberal Arts College founded in 1868. The Bloomfield College Motto is: "Lux In Tenebris. Light From Darkness." Photography by Umar Timol.
Related Posts
« ENTHRONED – The Art of Sophie Sanders THE DEATH OF EVE & POEM — Antje Katcher »