Counting breath
Far away from Fifth Avenue,
a sparrow,
its tiny needle heart
above mine.
No more falling earth.
No more trains bound by time.
No more hours in the gut of the city.
Now:
burning leaves,
cinnamon-scented air.
I unlace my breath,
count the times
I felt like a highway
in the middle of the afternoon,
stone hard wind
against the street sign:
The hospital bed
next to grandmother
her final breath
it hurts
Following breath
When I'm down on my knees, uprooting the worn ground, scraping weeds from the side of the house, I try to catch my breath, a firefly on the run, but end up following it to the earthworm's body as it writhes under the lawn bag.
It's almost lunchtime, but I feel the need to stay and help it back to the dirt, return it home.
I pinch its middle and throw it towards the end of the garden, far away from my hand hoe, its slick body pulling itself through the damp earth.
Past the haze of my own desire to finish, to uproot the bare-limbed daisies, I follow earthworm, let out a low hummed breath, again and again, a sentimental ode, a mindful elegy for the impossible weight of our shared life.
Measuring breath
Hold him tighter, mom. The vet pricks Brutus' back with the IV. His eight-pound body squirms against my chest.
This will all be over soon, and I'll get you ice cream, I whisper in his ear. His brown eyes bulge with fear.
How could I make him understand that everything is temporary, that even right then, as I held him I was already thinking of the after, the two of us, heads in the ice cream bowl of the future?
After 10 minutes, he's hydrated enough to go home. The doctor prescribes him some antibiotics for the kennel cough, and says he should start eating and drinking.
He tilts his head towards mine, and we share a private smile under the cold, white lights of the infirmary.
With whatever strength consumes him, his tail sweeps my stomach, and he pants against my warm cheek.
Barely balancing, he lifts his head and pushes off, puts four paws to the tile.
Nose up, he walks out of the exam room, his fuzzy tail bouncing behind him as he leaves a trail of urine.
All hail, King Brutus.
I stand and watch him, his unrelenting presence, his refined face lowered, a heavy bloom sigh in a garden of daisies.
Breathing outward (or dying breath)
From time to time, without knowing why, I watch the moon alone. Her moonshine face, a slick red bucket left in the rain, peels away the darkness.
Gasp moonstone.
Gasp moon crater.
Gasp virgin moon.
When I was a child, I'd watch her from my bed, through my moon window, through my moon heart.
I wish I were a moon river, a rock in her back, gravity in her throat.
Breathe out sparrow heart,
worm hole,
spiral tail.
Breathe in hollow bone,
firefly,
bare rose.
Dear moon,
go on calling me
from outside the closed window,
under the shade of my roof,
as I call back to you,
as I declare my presence,
as I let my words form a breeze,
go somewhere I've never been.


---
LAST DAY ON EARTH
There have been so many nights of listening, yet not enough doing:
A vortex of nothingness in my notebook, the unopened mail and the unmade bed. On my last day on earth, I might let these things slide. I'll be imperfect, write the crappiest sentence I can think of: I feel sad enough to sink a ship. In the evening, I won't wear makeup or tie my hair. Instead, I'll swivel in the thick of my chair, naked as a cat, the small electric bulb swinging above me.
And when the light grows less, I'll start a new sentence. Something like: It was a dry summer. The trees starved for rain. Almost all the season was a bare rose, promising complete darkness, and nothing but sleep.


---
ROSE
I want your heartache, pricked thumb, blackened dirt, tangled weed, little razor.
Make a hill out of me, a pile of chicken bones.


Loren Kleinman has published four full-length poetry collections: Flamenco Sketches, The Dark Cave Between My Ribs, Breakable Things, and Stay with Me Awhile, and a memoir The Woman with a Million Hearts. Her personal essays have been published in Cosmopolitan, Redbook, Woman's Day, Seventeen, USA Today, Good Housekeeping, and The Huffington Post, while her poetry appeared in The New York Times, Drunken Boat, The Moth, Columbia Journal, Patterson Literary Review, and more.
Read More »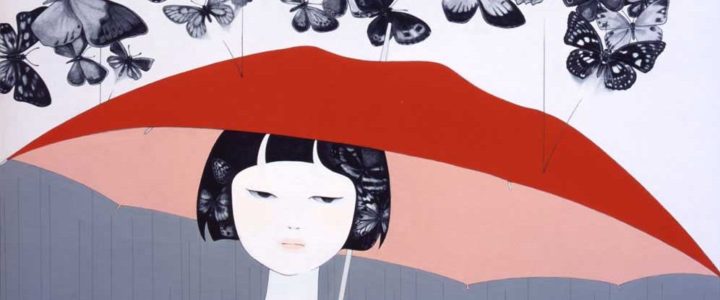 In the courtyard of a temple where an ancient tree blooms
an old woman is waiting to greet you.
She locks her fingers. You step into her hands.
Lengthen your body. Your feet on her shoulders.
Another woman (not much younger than you) climbs
over your bodies, plants her toes on your shoulders,
for the next woman, younger, skinnier, growing hips.
She helps the younger children board the human rope, 
almost toppling, if not for the old woman at the base,
and cupped hands. Because the two-year-old is carrying
the baby just born. The others tell her not to cry
while she presses her face to the baby's cheeks.
Go up the six-year-old says. Up here! says the five-year-old.
The toddler above plops the thumb out of her mouth,
offering her hand, another presses her sweaty palms to the bark,
reaches for a branch. But the old woman trembles at the base,
and breathing heavily, drops to her knees. The tower collapses,
your foot stuck under roots growing through the stone floor.
All the girls fall—some even cling to the boughs—but the baby.
Somehow the baby found a nest on a branch.
Later, when the old woman begins to disappear, you tell her
you saw the tree lower its branch,
to catch the falling cry.
---
FRAGILITY
We decided to ask for our money back,
we women of color.
So we wrote a formal letter to the league of straight white men.
I can't remember exactly what we said
but it was like filing a complaint to the manager
about some sandwich we ate,
the poor quality of a show
we had anticipated seeing for months
only to be disappointed. But it was something
more serious, like collateral.

I half-expected the straight white men to ignore our request,
if not take a whole year to reply,
or perhaps never get our letter in the mail
or even better, lose it
—denying having ever received it.

The straight white men wrote back immediately,
though it wasn't the main person we addressed, who wrote back.
It was his roommate or some friend sleeping on their couch
whom they lazily assigned this task.
Wasting no time, they gave us a Visa gift card of $5 from Target,
to reimburse us for the damage done.
And their letter was way more formal than ours,
with the proper, stuffy language
and copyrights of things I didn't even know we were talking about,
their words full of legal accuracy and politeness.

What's more is that they made the mistake of calling us
"Women of Color, Inc." as though we were an organization.
But this was unnecessary
because we didn't call ourselves that.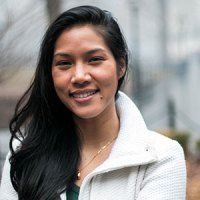 Monica Sok is a 2016-2018 Stadler Fellow at Bucknell University. She has received honors from the National Endowment for the Arts, Kundiman, the MacDowell Colony, Saltonstall Foundation, Hedgebrook, the Elizabeth George Foundation, the Jerome Foundation, and elsewhere. Her chapbook Year Zero was selected by Marilyn Chin for a Poetry Society of America Chapbook Fellowship. Her poems appear or are forthcoming in the Kenyon Review, Virginia Quarterly Review, Narrative, and the New Republic, among others. She holds an MFA in Creative Writing from New York University. She is from Lancaster, Pennsylvania.
Read More »