IN EIGHTS // Octaves
I: Emergence
Let the moss take you
halfway to origin
a doorway of sticking
Imagine the stone path
a step forward
the terra change before
you press a foot down
2: Interval
who is worthy enough
to create?
the opalescent portrait
the sign of ancient organic
wisdom
a carafe of silver
a wooden spoon
a clay bowl
3: Feed the moon
What vessel is immense
enough
to fill the void?
and what to use?
mitochondrial window plants
crystalline structures
small platelets like moon pies
4: Never-the-less
Never-the-less, the milky way
splashes its way
ever a reminder
our humanness is a malleable textured consciousness
the heart beat and the break
when mother is cut
loose from a star
---
The Gutiérrez Sisters in Grand Junction Boarding School, Colorado
I would write the lyrics to a song their mama sang to them, but I have no song to write—it is lost
A hundred ribbons
smooth and edged in lace
Ribbons like the sound of songs she sings to them
My great grandmother played the mandolin,
tuning pegs in a dust storm with crooked fingers
outside Grand Junction, Colorado
The other girls do not bother her during her practice
This is stolen time
between writing inky letters home
classes on Anglo customs
and work for white farmers
Her dress was cotton linen, striped, black blouse
and white scalloped collar
no embellishments
because vanity was an extravagance
their hair had been cut away
When they weren't canning or sewing
their teachers' smiles
were reflections against icy windows
in winter, she would brace against the cold
A navy woolen sweater sags over her shoulders
And the girls, three sisters,
would sit on bare cots holding their hands
against the warmth of a radiator
It was the oldest who had the duty of writing home
Dear mother, how are you? When will we come home?
Manuelita plays her mandolin
Rosita sews
Teresita hides candy in her shoe
*
You see, in this place we have no stories of our own, Mama
We don't hold our people's songs
They are untied from us, unspooled and unraveled
not like ribbons at all – like thread.
*
Teresita will never know her mother;
she was so young
when they went away.
The other two remind her
to be courteous.
But Teresita was a decade old
when she saw her mother again.
She said,
You are not my mama.
I never had one.
*
They wrote to Mama
to send something special.
The season has blotted them out
cold reminded them that they have bones
They know she can't travel the distance from Albuquerque
to Grand Junction.
They won't see her for years.
They are good—do what they're told.
Except for letters
there is no connection.
Mama yearns for the softness
of the three.
Manuelita, Rosita, Teresita
In her dreams
it is what it was like
when they hung on her apron,
they hung from her arms,
wrapped themselves around her ankles.
These three, first, cherished, sent away.
*
Ribbons
In between the time she is working
for her husband
feeding the men who come in and out of the fields and orchards—.
She collects yarn and ribbon
green felted velvet ribbon, black satin,
pink satin, red taffeta silk, brown velvet, lace
and egg shell white,
guipure roses hand-stitched on chocolate frosted ribbon
round pearl, oat pearl,
ribbons with sequins, and amethyst silk
A ribbon from every place she could find
Now, she sees them
everywhere
an unraveled mustard yellow
tied to a fence post
two silvery loops are straps holding a dress
Thick and silken in a basket at a thrift store
in rolls at the fabric shop
like dreams waiting to unravel
lace with a thousand eyes
look across the desert to her girls
blue, and peach, and some with stiffened wire
some she would touch
run her thumb nail over
satin weave
A ribbon for their hair,
to pin on a dress,
to wrap around a wrist,
to tie up.
Seam binding ribbon to connect
one to another
across the dusted road, ribbon
the ice and snow,
organdy ribbon
collected from around the legs of chairs,
grosgrain writhing at the feet of mountains,
waving like fingers from pinon tree groves,
wide, dusty lace
entwined in thick creosote
in the outstretched llano— picot edged.
Ribbons under the eaves of houses
satin ribbons tied to horses' ankles
feathery ribbons in bouquets
twill ribbons taking shape on frosted cakes
*
A box arrives at the school.
A plain brown box from far away.
Amidst the wind and chill.
for Manueltia, Teresita, Rosita
addressed from Mama Gutiérrez
They lay their hands in the nest of it all
ribbons smooth and edged
Ribbons like the sound of songs
collected for them.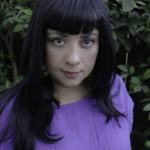 Marisol Baca is the author of Tremor from Three Mile Harbor Press. In 2019, she was named Fresno Poet Laureate. She is the first woman and Chicana/Latinx poet to hold this appointment, and her poem, "The Origin of Certain Place Names: for Fresno" was designated Fresno city's official poem. She has been published in SPF Lit, Casa Libre, Narrative Northeast, Riverlit, Shadowed: An Anthology of Women Writers, Acentos Review, among other publications. Marisol won the Andres Montoya poetry scholarship prize and has been nominated for two Pushcart Prizes. She received her Master of Fine Arts from Cornell University where she won the Robert Chasen poetry award for her poem, "Revelato". Currently, Marisol is an English professor at Fresno City College and she has established a community for women writers of color that seeks to support and uplift their writing endeavors.
Related Posts