On nights like this,
the road bends into blackness
and the white lines
paved into the tar
look like slivers of bone,
and the air whistles through
the open window,
and the trees rustle their feathers
and music lights up like stars,
loud stars.
The seat is warm from your jeans
and the smile on your face
feels like the first time
you've ever smiled,
it feels good,
so good that you keep smiling,
you hold it there,
that crooked smile
and stare off in front of you
through the windshield.
You look through the night
towards something you see,
and you recognize it,
in front of you,
like when you recognize
someone you know
and you stare,
and smile,
and drive past them,
passing through them,
and them into you,
and the night passes
through both of you.
You smoke your last cigarette,
share a light with the wind,
and the wind whistles
as you drive.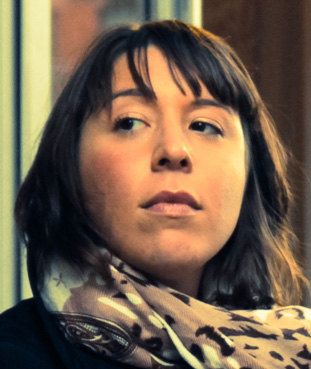 Loren Kleinman is a young, American-born poet with roots in New Jersey. Her poetry explores the results of love and loss, and how both themes affect an individual's internal and external voice. She has a B.A. in English Literature from Drew University and an M.A. in Creative and Critical Writing from the University of Sussex (UK). Her poetry has appeared in literary journals such as Nimrod, Wilderness House Literary Review, Writer's Bloc, Journal of New Jersey Poets, Paterson Literary Review (PLR), Resurgence (UK), HerCircleEzine and Aesthetica Annual. She was the recipient of the Spire Press Poetry Prize (2003), was a 2000 and 2003 Pushcart Prize nominee, and was a 2004 Nimrod/Pablo Neruda Prize finalist for poetry. In 2003, Spire Press (NYC) published her first collection of poetry Flamenco Sketches, which explored the relationship between love and jazz. Kleinman is also a columnist for IndieReader.com (IR) where she interviews NYT bestselling indie authors. Many of those interviews in IR reappeared in USA Today and The Huffington Post. Her second collection of poetry, The Dark Cave Between My Ribs, is due to release in 2014 (Winter Goose Publishing, 2014). She is also working on a New Adult literary romance novel, This Way to Forever; and a collection of interviews and essays that explore the vibrant community of indie authors called Indie Authors Naked: Essays and Interviews on the Indie Book Community (Publisher: IndieReader).
Related Posts
« After The Long Sigh of Violins Wound You Beyond Repair – John Barrale SOLACE – Michael O'brien »