you can never not see a bird in your house.
Every rustling paper, every curtain twisting

in a breeze, every shadow on a ceiling
is a frantic, fluttering bird. One winter we had

three in three weeks. I came home to find
our typically docile calico in the kitchen

feasting on a dead robin, her teeth bared,
face pasted with feathers. The house was sealed,

no obvious holes in the siding, windows,
or chimney, not like those buildings ripped open

by storms—giant dollhouses dripping
with insulation, beds and tables still in place,

paintings teetering over sofas. Don't get me
wrong—I'd never welcome destruction.

But I like to glimpse the cross-section
of others' lives. On the other side of the rowhouse

wall we share with neighbors, we don't hear
voices, but sometimes there's a low rumbling

that would barely register a 1.0 on the conversation
Richter scale. Most mornings we hear their shower

pulsing behind our bed. Less than a foot away
a naked man is working his hair into a lather—

just once, I'm sure, because no one
believed those shampoo instructions telling us

to rinse and repeat, did they? When I was a child
we always rented one Days Inn motel room

for our family of four, and my parents hung a sheet
between their bed and ours, a makeshift partition.

I think this is true and not something I saw on TV.
Or maybe I just want to believe they liked each other

once. There are a million years between is and was,
are and were. It's no accident that houses have stories.

Ours has a foundation made of blocks. Sometimes
light squeezes through the cracks. Sometimes a bird.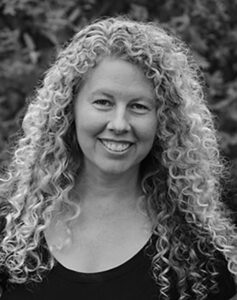 Erin Murphy's latest book of poems, Human Resources, is forthcoming from Salmon Poetry. Her work has appeared or is forthcoming in such journals as The Normal School, Southern Poetry Review, Guesthouse, The Georgia Review, North American Review, and Women's Studies Quarterly. Her awards include The Normal School Poetry Prize judged by Nick Flynn, the Dorothy Sargent Rosenberg Poetry Prize, and a Best of the Net award judged by Patricia Smith. She is editor of three anthologies from the University of Nebraska Press and SUNY Press and serves as Poetry Editor of The Summerset Review. She is Professor of English and Creative Writing at Penn State Altoona.
Related Posts
« TWO POEMS – Edytta Anna Wojnar Improvision – Urayoán Noel »