Boys desire to be
desired, too.
Boys move
out of single
parent homes &
into double occupant
condos of unwilling to fix
foundations so they never fill the vacant rooms.

Men make tombs of their defects
erecting
monuments
to conquest &
mislabel it company.

Boys can also be whores, you know.

Boys ignore knocks on doors
& keep pleading.
Boys use fingers as
tongue depressors when
depressed & hit eject.

Boys look into mirrors
at shapes that aren't there
& also want not to be there.

Boys become assistants
to magicians willing
to teach them how
to disappear
& then reappear
each evening

Boys become men
who vanish altogether
with the flick of an 'Abra-cadaver'                wrist.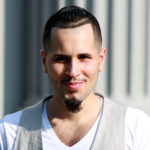 Paul LaTorre is a poet, activist and educator who teaches at Bloomfield College in NJ. Blending pop culture with advocacy for various forms of trauma including abuse, disorder, and mental health issues, his aim is to create dark poems with a sense of levity. Paul's work has been published in Zeitgeist, Drunk Monkeys, Narrative Northeast, BLINK and has been featured on the DREAM Act's 'voices' portal. His chapbook of poetry, Disappearing Boy, is forthcoming from 3 Mile Harbor Press.
Related Posts